aBandOfBrothers Eastbourne
abandofbrothers Eastbourne was formed in January 2014, when a group of local men responded to an advert asking for mentors to help young, male ex-offenders in the local area.
The first group of mentors trained in late February, and by the summer there were enough men to run our first mentoring cycle. The group includes men from a wide variety of professions, including two teachers who have first-hand experience of working with teenagers in the Eastbourne community, and who see the challenges they face every day. Many of the young men have told us that before they joined abandofbrothers they felt trapped and alone in a system that didn't care, with no role models or support to look up to.
We see ourselves very much a part of the wider Eastbourne Community and look for opportunities to be of service. In the last three years we have worked alongside many local organisations. These include: a planting project with Edible Eastbourne; feeding the elderly and revitalising green space for Eastbourne Homes; running a boxing programme in partnership with Eastbourne Boxing Club; providing a soup kitchen at Cornfield Tea Room over Christmas for local homeless people; and supporting the BoHo Light festival.
abandofbrothers Eastbourne has its own management committee who meet monthly. We benefit from being a part of the overall charity umbrella but have the flexibility to make the programme fit the specific circumstances and needs of Eastbourne.
In 2017, we are running two training weekends for mentors, as well as two Quest cycles in May and October. If you would like to contact us:
Email: eastbourne@abandofbrothers.org.uk
Project lead: James Wong – 07882 429 914
Operations: Andy Clark – 07710 300 769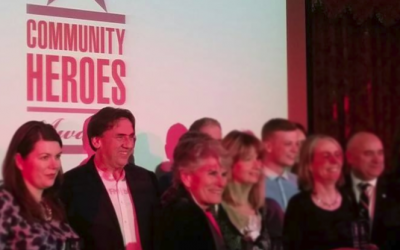 A glittering prize has been won by organiser, fundraiser and all-round irrepressible abob supporter, Eastbourne dweller, Paul Apps. Out of hundreds of entrants, Paul has won the BBC Sussex and Surrey Community Heroes Award for Volunteering. On Dec 10th, Paul and his wife Alison attended the celebration dinner. At the start, Paul knew he'd been shortlisted but nothing more. "When they said the winner is Paul Apps, I could not believe it," he says with characteristic modesty. "I'd like to say this award is for all the mentors and mentees in abob who are constantly in service with no awards. This award honours the abob...